CLEANING & REPAIR SUPPLIES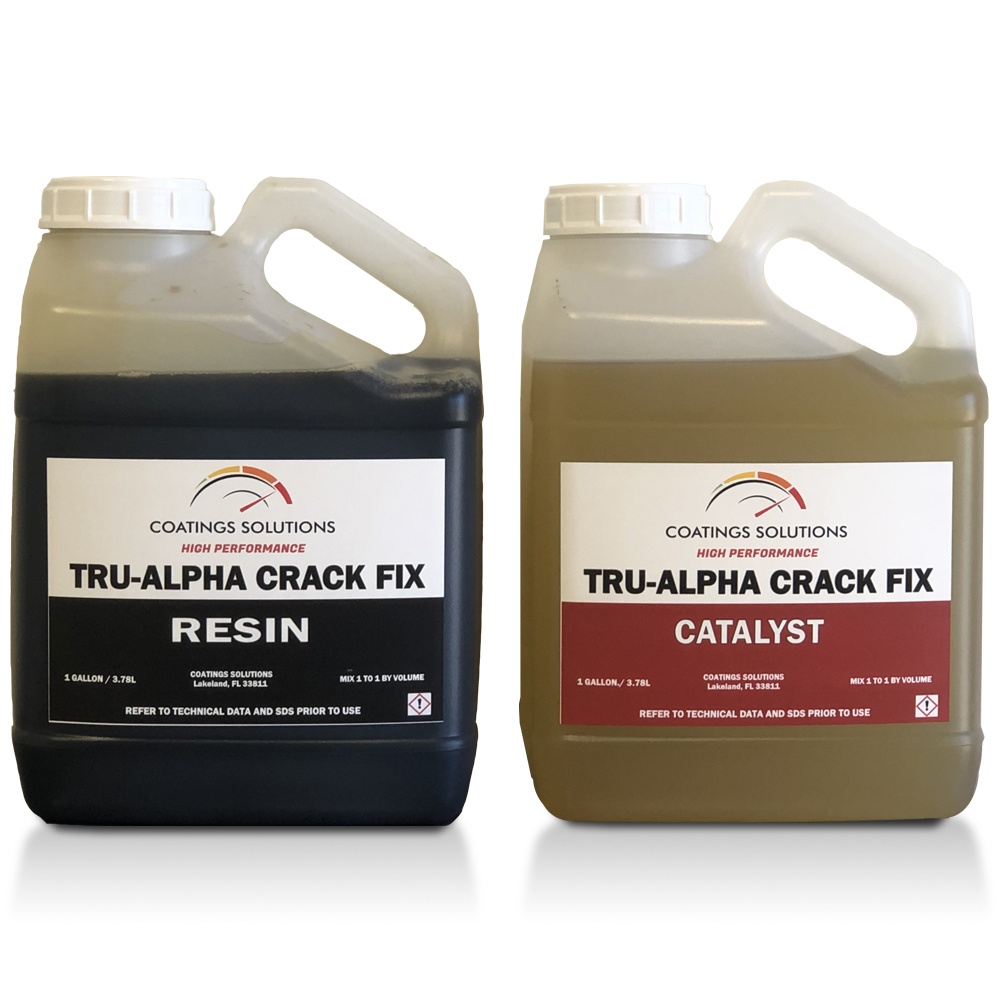 Tru-Alpha Crack Fix
Tru-Alpha Crack Fix is a fast setting polyurea crack repair for joints, divots, and cracks in concrete. This is a fast acting adhesive that has high compressive strength three times stronger than concrete. Designed to be filled proud and gound down flush within 5-7 minutes of application. 
Mix Ratio: 1:1
Packaging: 2 Gallon Kit
Coverage Rate: Depends on use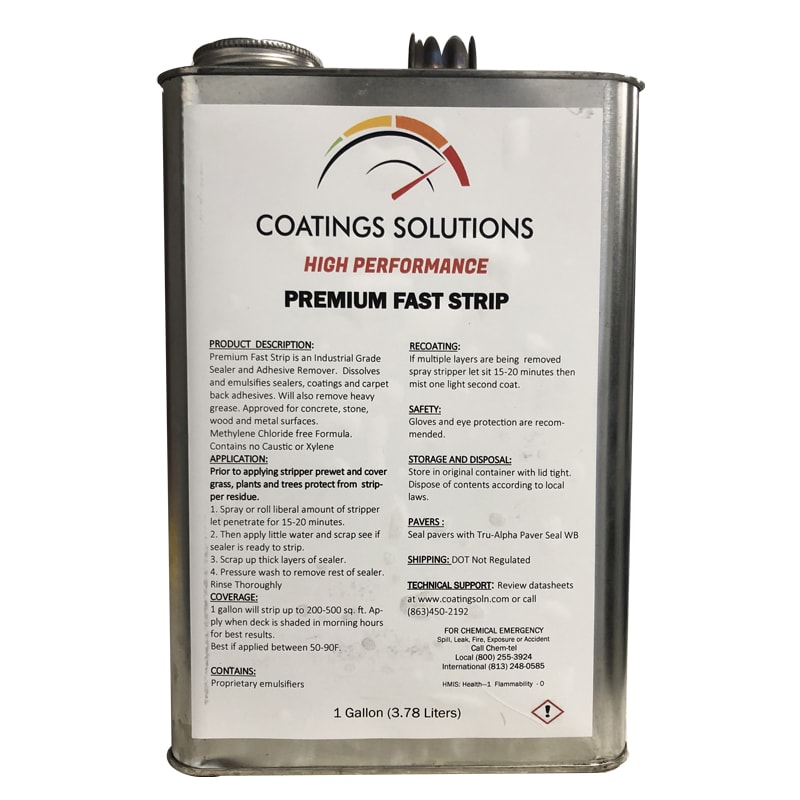 Premium Fast Strip
Premium Fast Strip is a strong emulsifier that is pH neutral, stays wet, contains no solvents, and can be cleaned up with water. It will remove VCT glue, carpet glue, water-based epoxy, polyurethane, polyaspartic, acrylic, and when diluted can be used to remove graffiti. Fast Strip does not contain Methylene Chloride.
Coverage Rate: 200 – 500 sq ft per gallon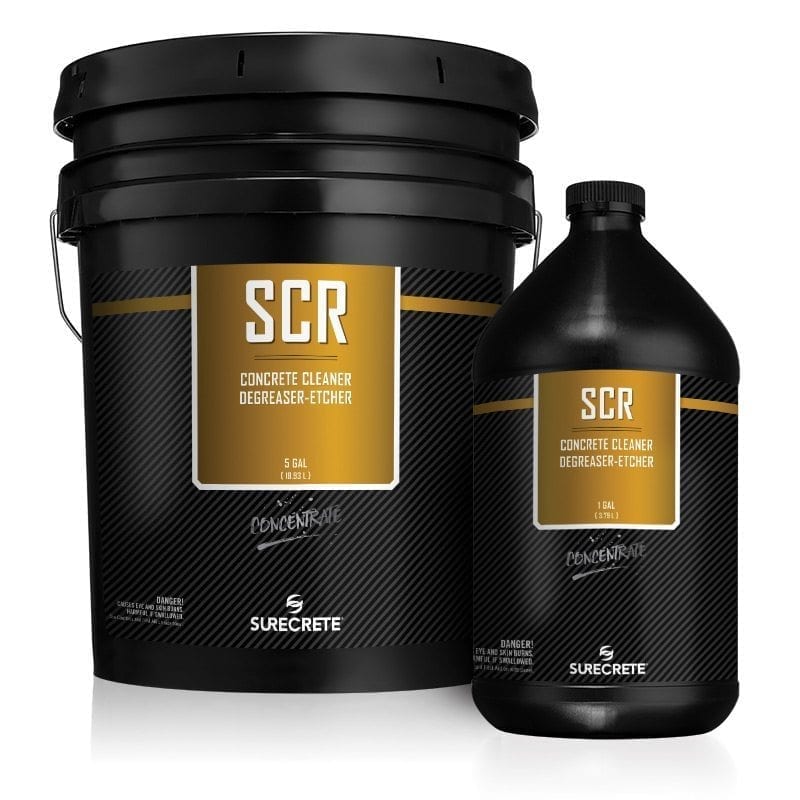 Concrete Surface Preparation
SCR is a penetrating concentrated concrete cleaner and renovator that quickly dissolves lime deposits, mortar, scale, rust, algae, stains and mineral deposits. It is a mildly acidic detergent that etches and thoroughly cleans concrete surfaces in preparation for subsequent overlays. SCR is a great choice to use before secondary coloring on decorative concrete, as well as decorative staining of concrete.
Product Application Video Click Here
Coverage Rate: 
Full Strength = approx. 150 sq ft per gallon
1 : 1 – may be required for stubborn stain removal or profiling especially hard troweled concrete
2 : 1 – For concrete to clean & profile prior to overlay or staining.
4 : 1 – primarily used to clean petroleum residue of liquid release from concrete or overlays.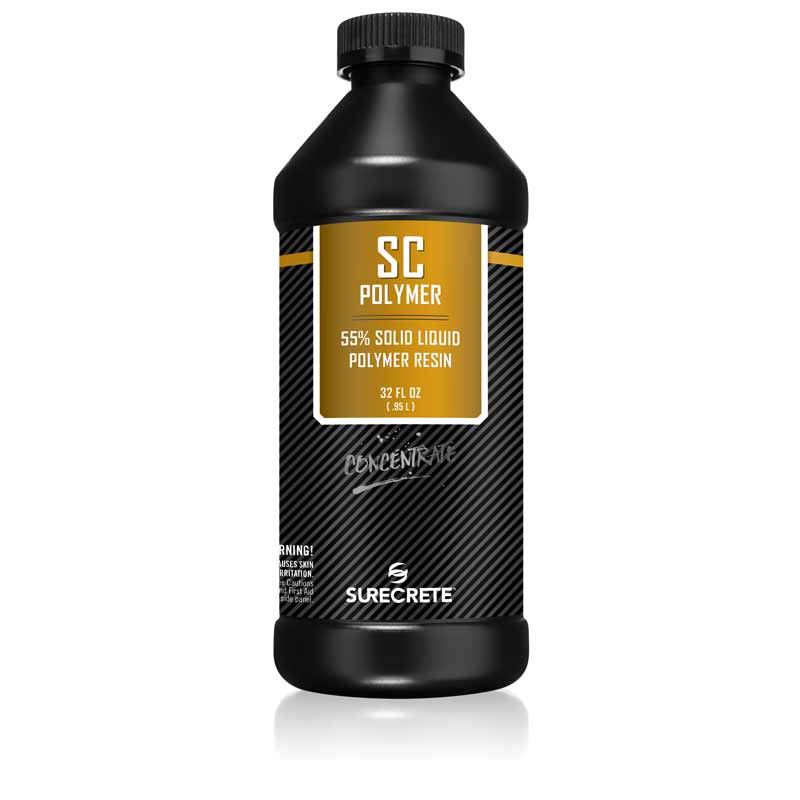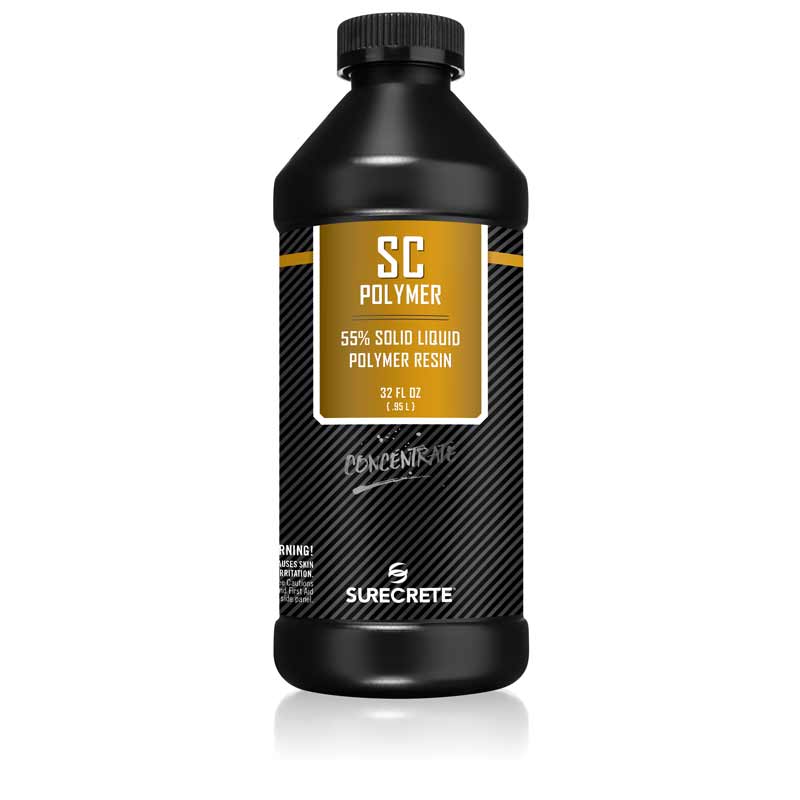 SC Polymer
SureCrete's liquid concrete polymer concentrate is a 55% solids copolymer that can increase abrasion resistance and assist in the curing concrete strength.
Coverage Rate: Depends on use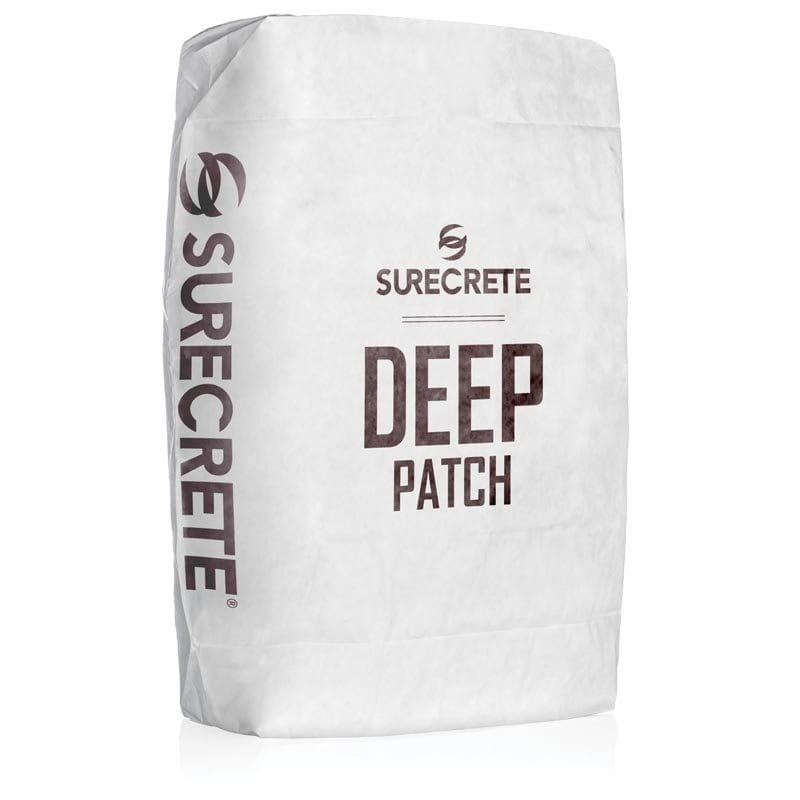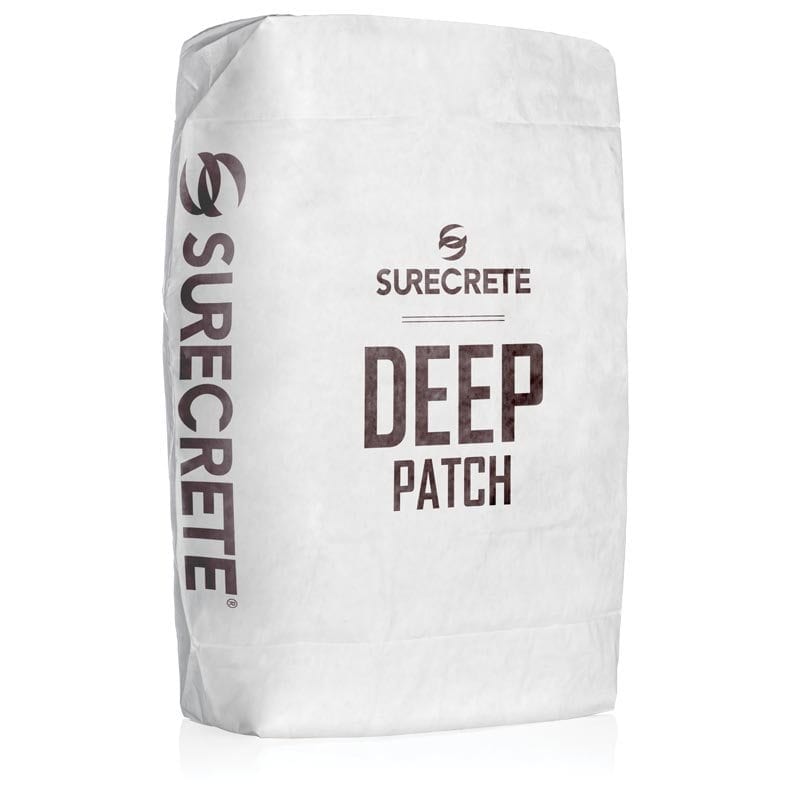 Deep Patch
Deep Patch™ is solid concrete repair product for patching large holes in concrete surfaces. SureCrete's solid cement filler is a single component, just add water cement based chemical patching compound system providing a patch that goes from 1/8″ (0.32 cm) and up. Deep Level, previous name, offers superior power to patch larger spalls in concrete floors, build ramps, repair loading docks, and parking lot pavement.
Coverage Rate:½" Thickness = 11 ft², 1" Thickness = 5.5 ft², 2" Thickness w/ pea gravel = 3.3 ft², 3" Thickness w/ pea Gravel = 2.2 ft², 4" Thickness w/ pea Gravel = 1.7 ft²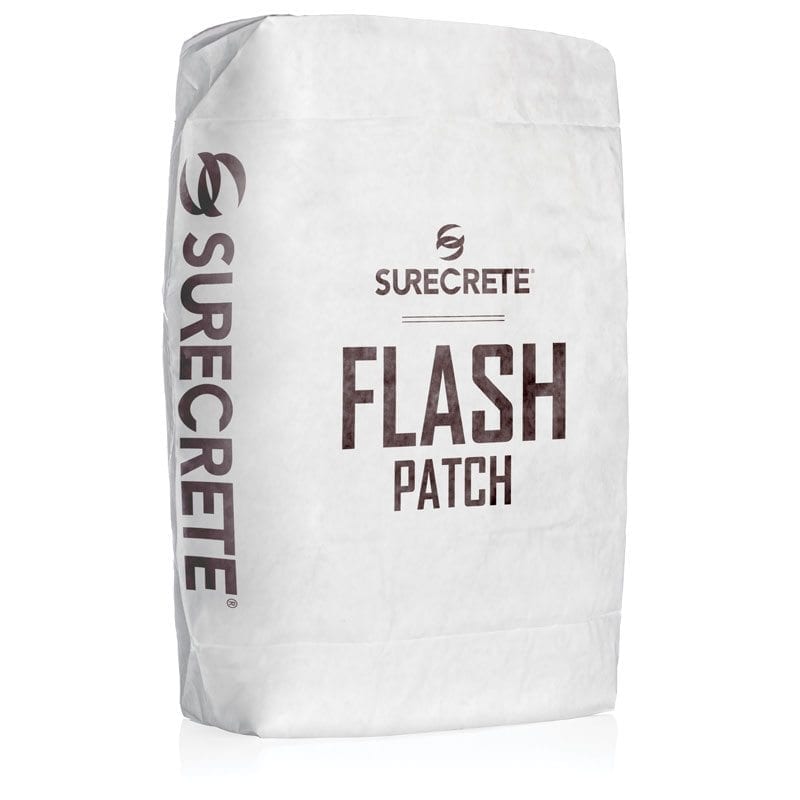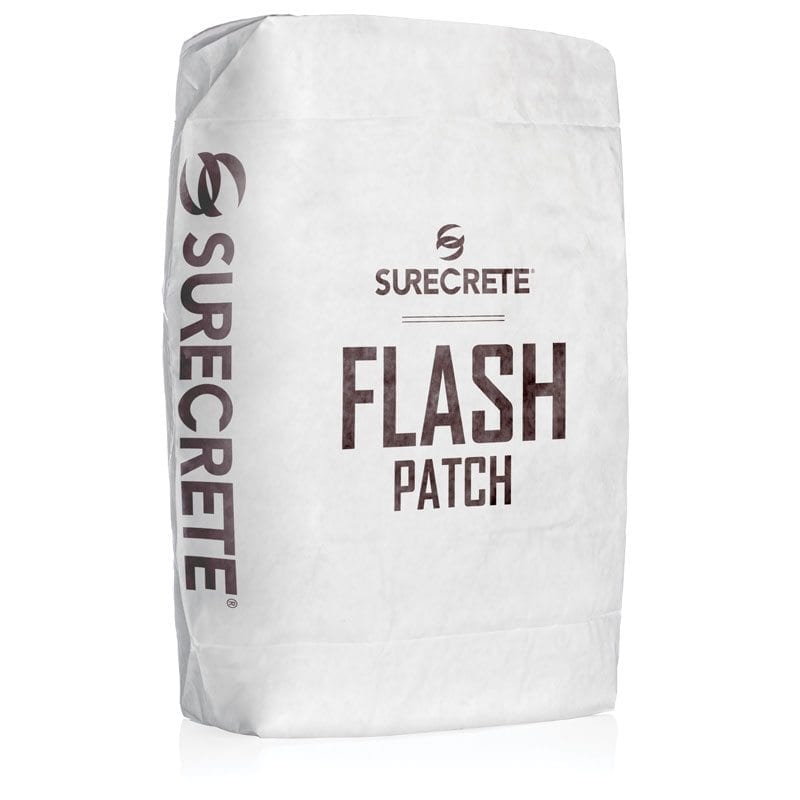 Flash Patch
Flash Patch™ is a single component cement based thin concrete repair patching compound system providing a workable, no-slump patch that sets quickly for the quicker return to service. Available in a white portland cement formulation, just add water!
Coverage Rate: 11 sq ft @ 1/2″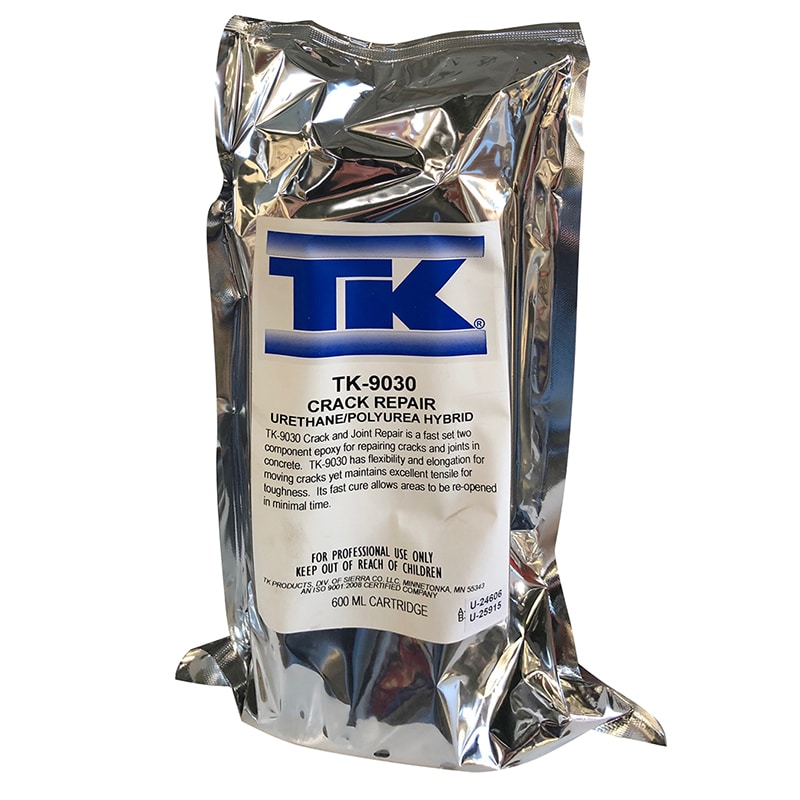 TK 9030
TK-POLYUREA CRACK REPAIR is a fast-setting, low viscosity, polyurea/urethane blend for penetrating and filling cracks in concrete bridge decks and slabs.
Features:
• Low viscosity to easily penetrate cracks as small as 1/32", effectively sealing them off from damage and degradation.
• Extremely fast setting – gels in 3-6 minutes and tack free in 10 minutes.
Uses:
Suitable for use to fill and repair concrete bridge decks and concrete slabs.
Coverage:
As supplied, each 600-ml cartridge will fill 36 cubic inches (or a crack that is 12 linear feet long, by 1/8" wide, by 2" deep). On bridge decks, each 600-ml cartridge will cover approximately 75-100 linear feet. As supplied, each 2-gallon kit will fill 462 cubic inches. *Coverage rate will vary depending on the size of the crack and any waste overfilled.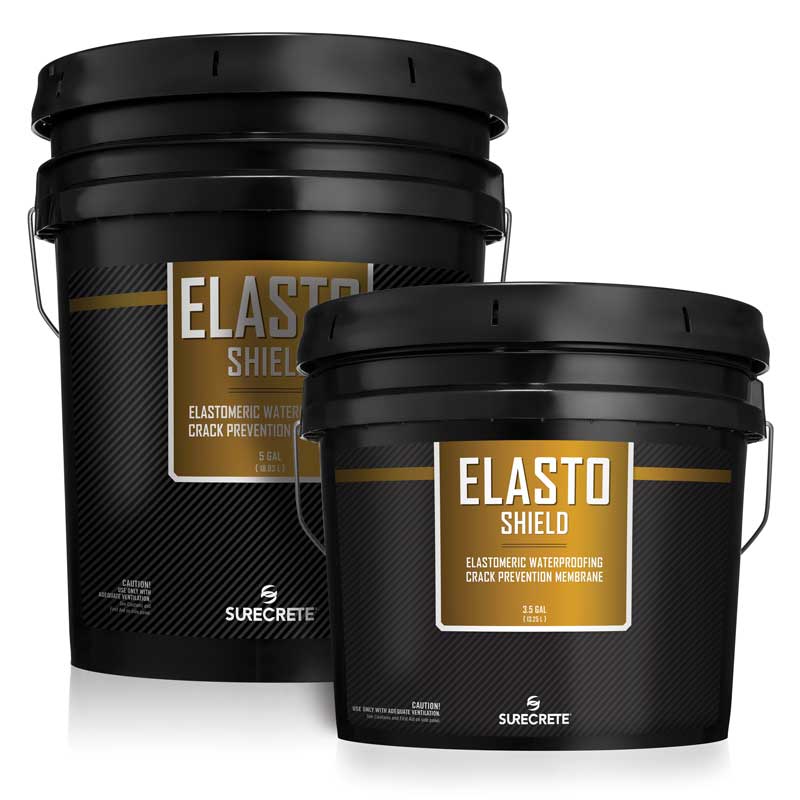 ElastoShield
ElastoShield™ by SureCrete is a ready-to-use concrete waterproofing and cracks prevention elastomeric liquid membrane that provides waterproofing for all SureCrete coatings systems.
Packaging:  3.5 and 5 Gallon Pail
Coverage Rate: Approximately 150 sq ft per gal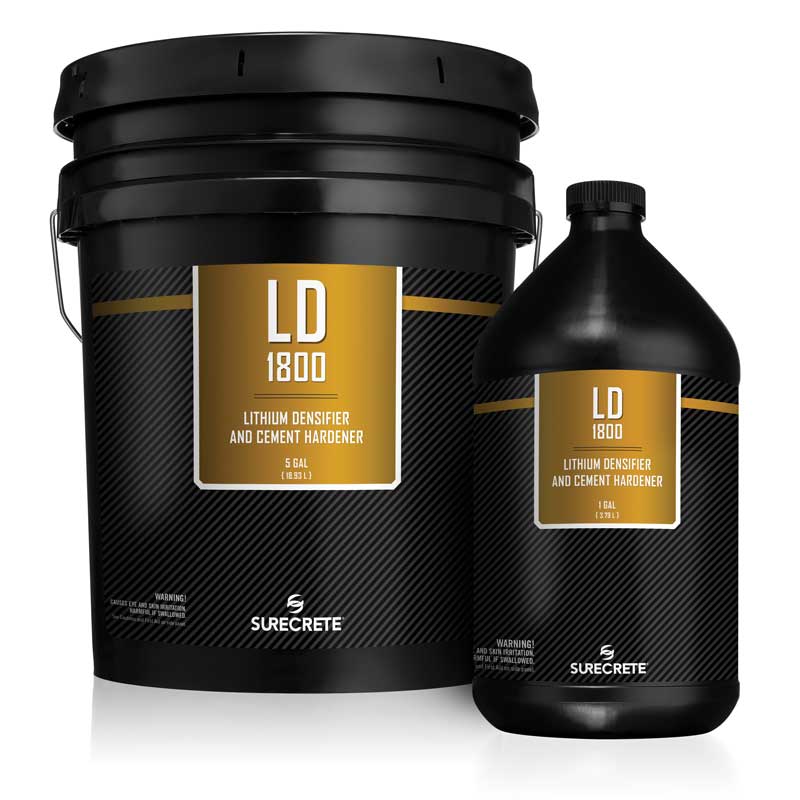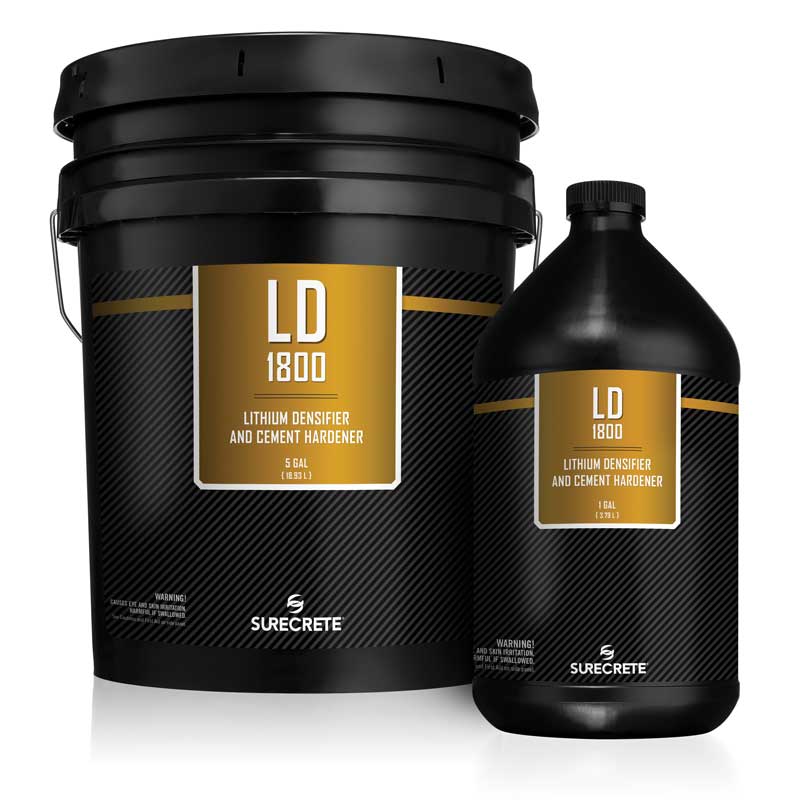 LD 1800
SureCrete's LD1800™ concrete lithium densifier a liquid concrete hardener provides a clean, safe, economical "stand-alone" finished concrete floor. To harden concrete, this penetrating treatment reacts chemically with the free lime in concrete to produce calcium silicate hydrate within the concrete pores, making the concrete stronger and more durable. LD-1800 is a chemical concrete hardener.
Packaging:  1 gallon, 5 gallon pail, or 55 gallon drum
Coverage Rate: Approximately 300 – 400 sq ft per gal