CONCRETE STAINS, DYES AND COLORANTS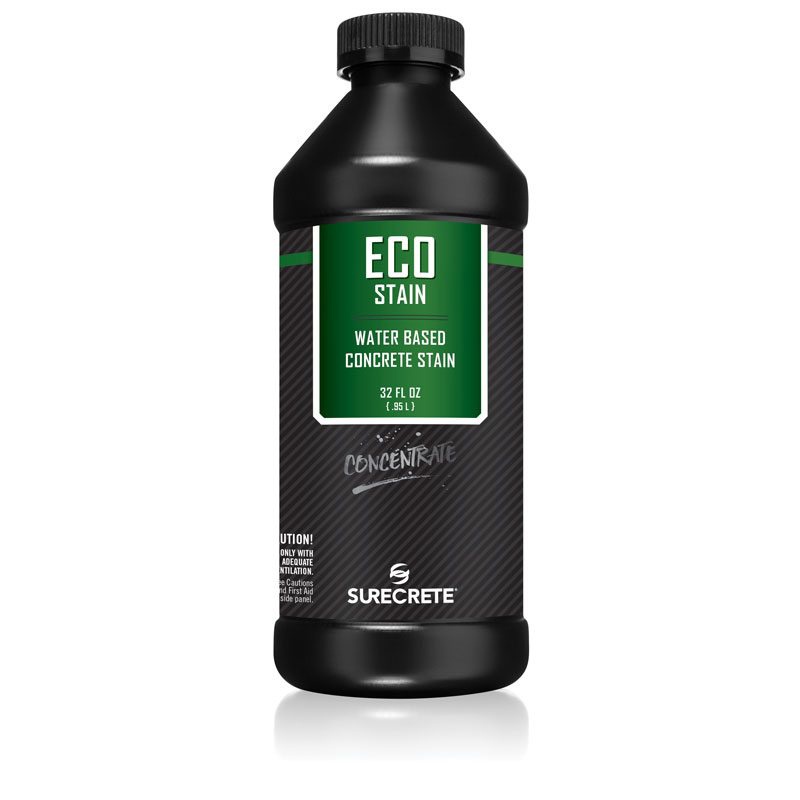 Eco-Stain
A waterbased semi-transparent concrete stain which is UV-stable. Able to be used both vertically and horizontally on concrete surfaces. Eco-Stain is a micronized pigment that disperses itself into the pores of the concrete delivering a reactive acid look without all the harmful chemicals and water waste.
Packaging: 32-ounce concentrates and 1 gallon concentrates
Coverage Rate: Approximately 200 sqft per diluted gallon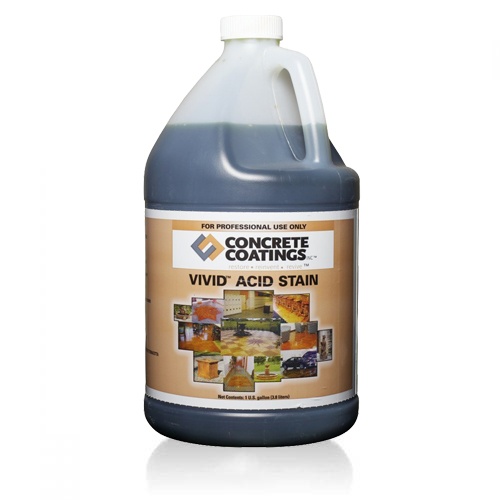 Vivid Acid Stain
VIVID™ Acid Stain colors concrete surfaces with a beautiful variegated and mottled appearance. VIVID™ Acid Stain can transform an ordinary concrete surface into the rich look of granite or marble. Reacts with minerals that exist in concrete that has cured for at least 28 days. It penetrates the very top layer of the concrete surface with color that will not chip, crack, or peel. The colors produced in each section of concrete will be unique with captivating, multi-colored intensities that become a permanent part of the concrete.
Penetrating chemical stain
Will not chip, crack or peel
Variegated color
Packaging: 1 Gallon and 5 Gallons
Coverage Rate: Approximately 200 – 300 sqft per gallon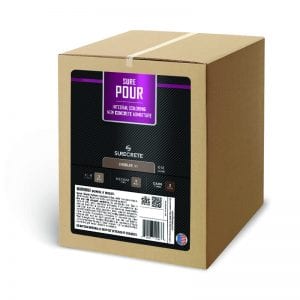 SurePour
Our 10-pound ready mix new concrete colors bags provide the contractor with a light, fast, weather-resistant, lime-proof, no maintenance finished product. SureCrete Design Products maintain the highest tinting qualities with strength and color material consistency from bag to bag. In our manufacturing plants, color is conveniently packaged in a disintegrating bag that disperses safely and rapidly into the cement concrete batch, making it better than most ready-mix color companies in the market today. Avoid a sign discolorations concrete by sealing your concrete with a high-quality sealer.
Packaging: 10 Pound Bags
Coverage Rate: Light = 1 Bag Color / 2 Yards Concrete
Medium = 1 Bag Color / 1 Yard Concrete
Dark = 2 Bags Color / 1 Yard Concrete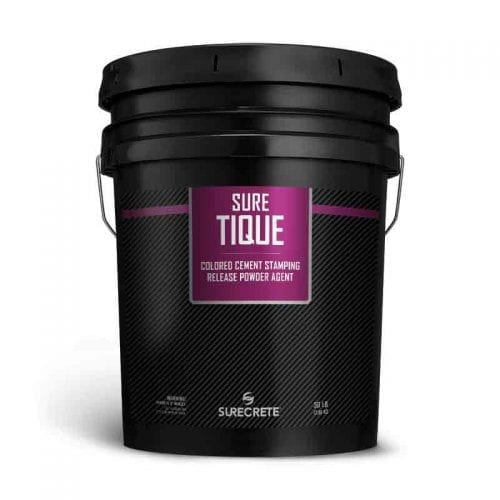 SureTique
SureCrete's stamped concrete powder release contains a specially formulated releasing agent that forms a moisture barrier between the stamping tools and wet concrete to allow the release of stamping tools. In addition to releasing agents, the powdered release contains integrated iron oxide pigments that simultaneously provide a secondary accent color to the concrete surface.
Color Chart (Some light colors are special order)
Packaging: 5 gallon pail
Coverage Rate: 1000 sq ft per pail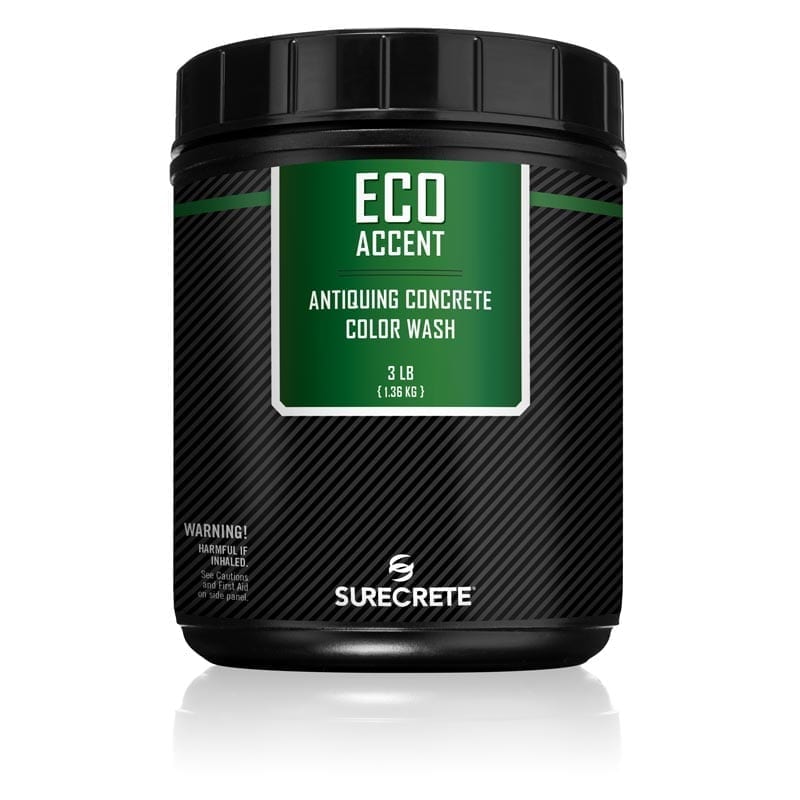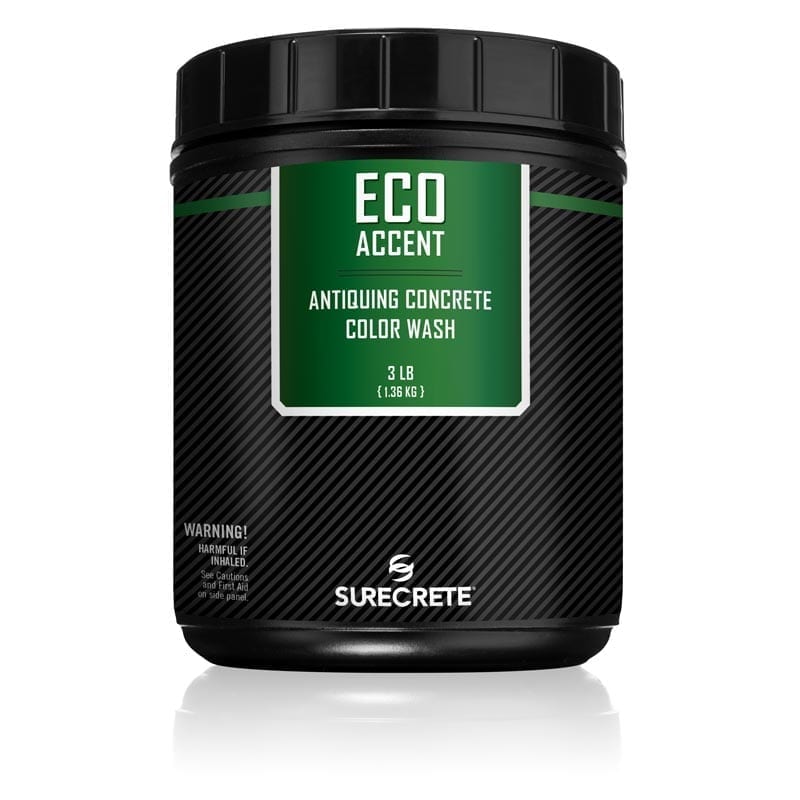 Eco-Accent
Eco-Accent is a concrete accent color stain product used for accenting new or faded concrete that can be sprayed on or broomed into the surface. SureCrete's secondary concrete accent colorant is UV Stable and has 0 VOC's
Packaging: 3 pound jar
Coverage Rate: 200 – 300 sq ft per mixed gallon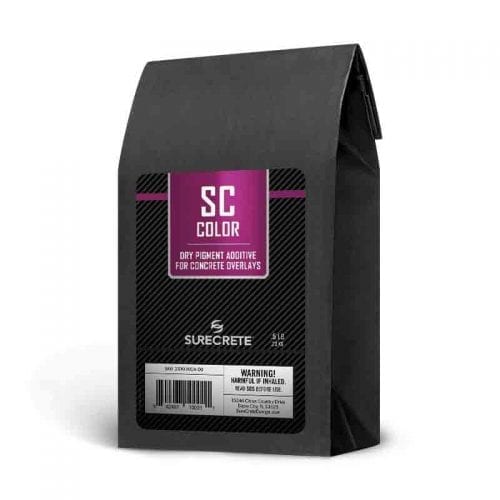 SC Color
SureCrete's concrete color additives are conveniently measured to individually tint any single concrete bag mix in the SureCrete Design Products' line. All Color Packs are pure, synthetic, iron oxide pigments containing no fillers that will affect the performance of the overlay mix being tinted. Color consistency is maintained from one concrete color pack to another.
Packaging: .5 pound bag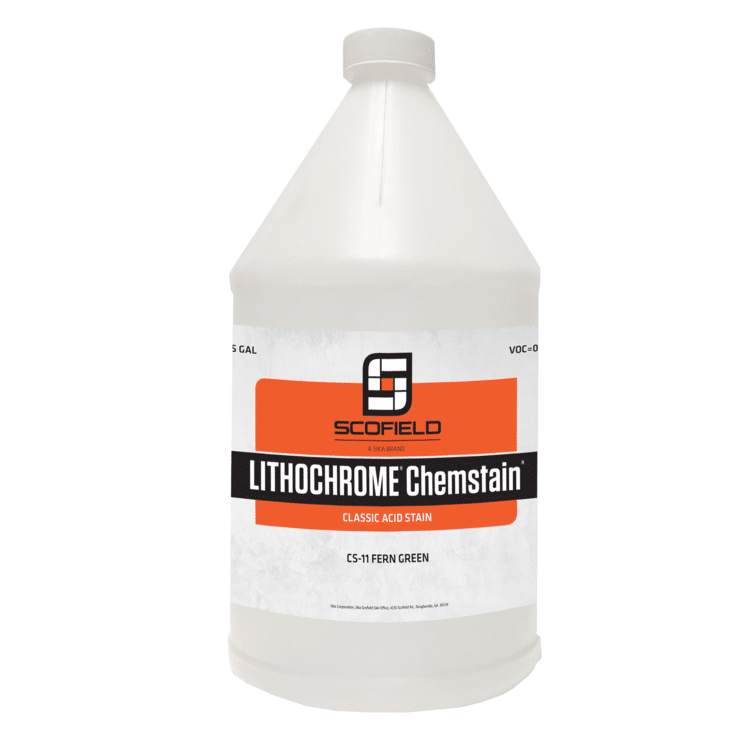 Scofield Chemstain
LITHOCHROME Chemstain Classic is a chemically reactive stain that etches and permanently colors cementitious surfaces with color effects that are variegated, mottled, and natural looking. Application requires a complex multistep process and should only be attempted by experienced contractors and artisans. LITHOCHROME Chemstain Classic can be left uncoated to simulate natural stone, or sealed with a polymeric topcoat to develop dramatic increases in color depth and intensity.
Packaging: 1 and 5 gallons
Coverage Rate: 200 – 300 sq ft per gallon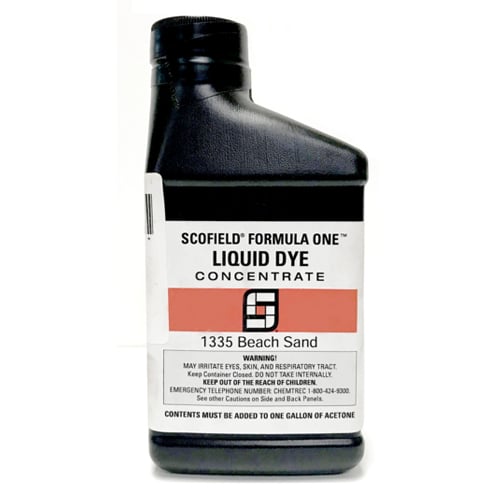 Formula One Liquid Dye Concentrate
SCOFIELD® Formula One Liquid Dye Concentrate is a solvent soluble dye for coloring interior concrete surfaces. It is a. Designed for easy job-site dilution with acetone, the diluted material will penetrate into the pores of properly prepared new or old concrete. It can be applied lightly to gently tone surfaces, or applied heavily to develop deep colors. Variations in application technique and topcoat selection can produce color effects that range from rich paint like jewel tones to light variegated natural effects.    SCOFIELD® Formula One Liquid Dye Concentrate is not designed as a stand-alone floor finish. After application it must be locked into the concrete with a premium concrete densifier prior to polishing, or sealed with a protective coating.
Packaging: 8 fluid ounces to be mixed with 1 gallon of acetone to make ready-to-use dye
Coverage Rate: 300 – 600 sq ft per gallon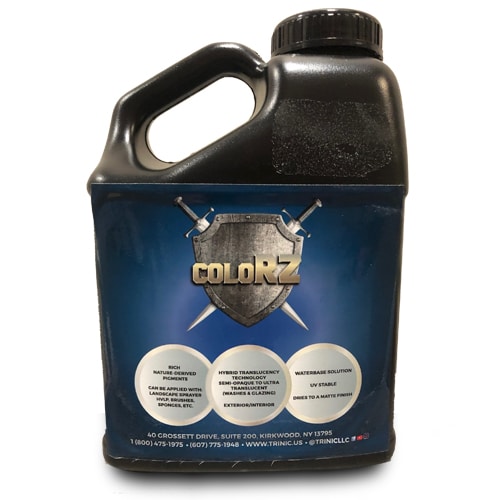 ColoRZ
A pre-blended formulation of brilliant UV resistant earth derived pigments used to topically color masonry/cementitious surfaces. This universally designed stain can be used for glazes, washes and opaque applications when desired.