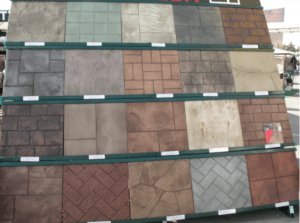 What is stamped concrete?
Concrete is most commonly recognized as a structural building material, however many are not familiar with the versatility of concrete as a stamped decorative design solution for interior, exterior, flatwork, vertical, or even countertop applications.  Concrete stamping can be achieved with freshly poured concrete or by overlaying existing concrete with SureStamp.  The large selection of stamp designs and color options provides an endless opportunity to create one-of-a-kind surfaces. Our Stamp Rental Service is one of the very few in the Orlando area and we are competitively priced.
Click here to view available concrete stamp designs.
How does it work?
First, contact or visit our office for concrete stamp rental availability.  Once we establish availability, come in, and we will get you started on the rental process. We can assist with choosing how many stamps you will need and the touchup skins that work best with your pattern. We can also help you select integral color and concrete stains for your finishing touches. Our shop has many products you may need for your project, including but not limited to: overlay mixes, integral colors,  liquid release, powder release, stains, and sealers. When you are finished with your stamp, clean thoroughly and return to our shop.
Concrete Stamp Rental Details:
Stamp Rental Price: $35 per stamp
Rental Duration: 3 business days
Touch Up Skins: free with a rental of a rigid or flexible stamps
Tamper Rentals: $25 per tamper for a 3-business day period
Most Popular Styles:  6" wood planks, majestic ashlars, and oxford slate seamless stamp
*We also sell new and used stamp sets.
Reserve your stamps today by calling us at 407-730-3103. We will have your stamp ready for pickup at your convenience.