Polished concrete is known for its beauty, durability, and low maintenance.  With new advances in installation and material technology, it is fast becoming the most popular flooring choice in the Central Florida area.  Most people are familiar with polished concrete in commercial settings, but we are now seeing a dramatic increase in the installation request within the residential sector.  Homeowners are attracted to the high luster, low maintenance, and endless color options of polished concrete.  New or old concrete can be made into a no-wax, high gloss, stain and scratch resistant floor using a system of grinding, nano densifiers and sealers. Eco-friendly conscious builders, property owners, and renovators are choosing polished concrete for several reasons.  Because concrete is already present, additional flooring materials do not need to be produced or shipped, thus reducing the environmental footprint of the project.  The process and materials used to create polished concrete emit very little to no VOC which reduces air contaminants and improves indoor air quality. Polished concrete is also energy efficient due to its intrinsic ability to moderate temperature fluctuations reducing the energy consumed by HVAC systems.  The reflective nature of polished concrete also reduces the amount of illumination typically required by reflecting the already existing natural and artificial light and improving the efficiency of the lighting system.  When all of these factors are combined, polished concrete is the obvious choice for going GREEN and earning LEED points. Select Surface Solutions offers a line of polished concrete materials, equipment, and technical support for the installation of polished concrete floors for your project…large or small.
POLISHED CONCRETE MATERIALS, TOOLS, & EQUIPMENT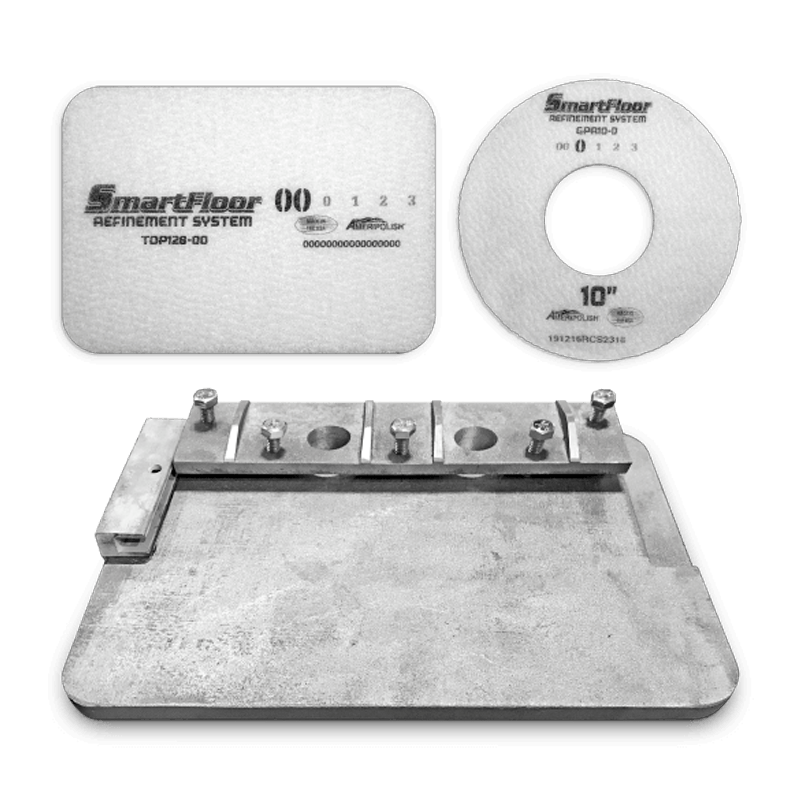 SmartFloor™ Refinement System
POLISHING ABRASIVES
The SmartFloor™ Refinement System concept is engineered to provide a high-aesthetic floor that is an easy and economical way to utilize any polishing machines, including power trowels. The SmartFloor™ Refinement System consists of pads that have composite resin abrasive technology embedded in their design. The SmartFloor™ Refinement System The SmartFloor™ Refinement System allows for easy assembly of universal blade holders, that will allow the user of the machine to equip abrasives to virtually any power trowel machine. Additionally, the SmartFloor™ Refinement System can be outfitted to machines with our patented blade system or complement your planetary system with our custom ring designs.
Coverage Rate: 20,000 – 30,000 sqft depending on concrete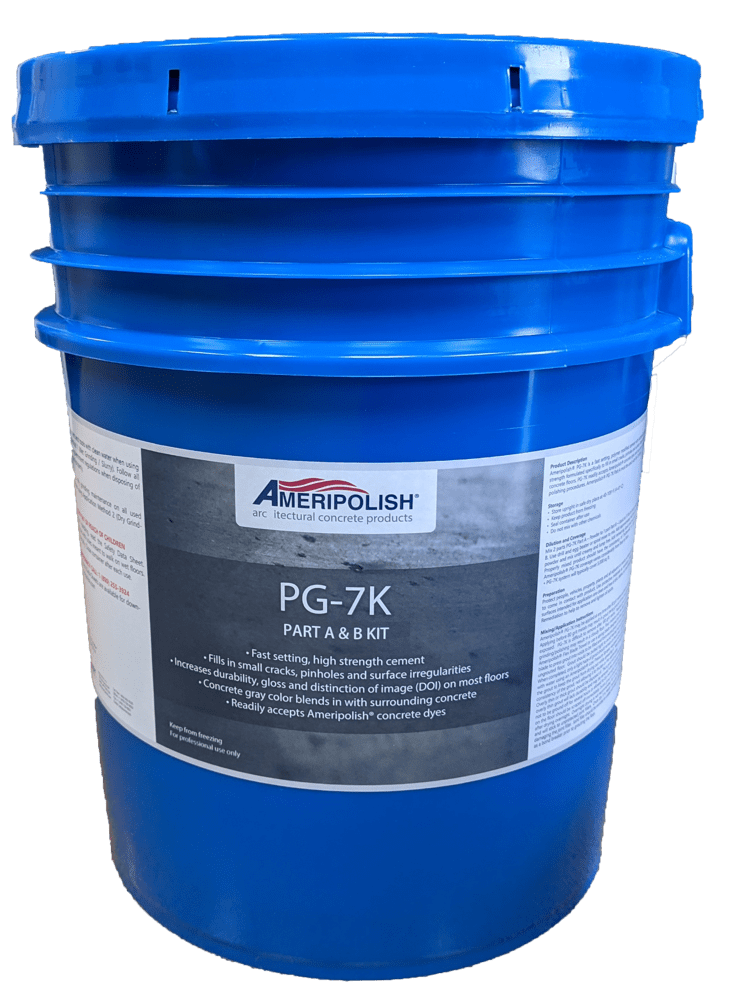 PG-7K
Ameripolish® PG-7K is a fast-setting, polymer-modified, high-strength cement with outstanding bonding properties formulated specifically to fill in small cracks, pinholes, and surface irregularities in concrete floors. It also increases durability, gloss and distinction of image (DOI) on most floors. PG-7K readily accepts Ameripolish® concrete dyes and requires no special polishing procedures. Ameripolish® PG-7K Part A – Powder must be used with PG-7K Part B – Liquid.
Packaging: 30 pound kit
Coverage Rate: approx 2,500 sq ft per kit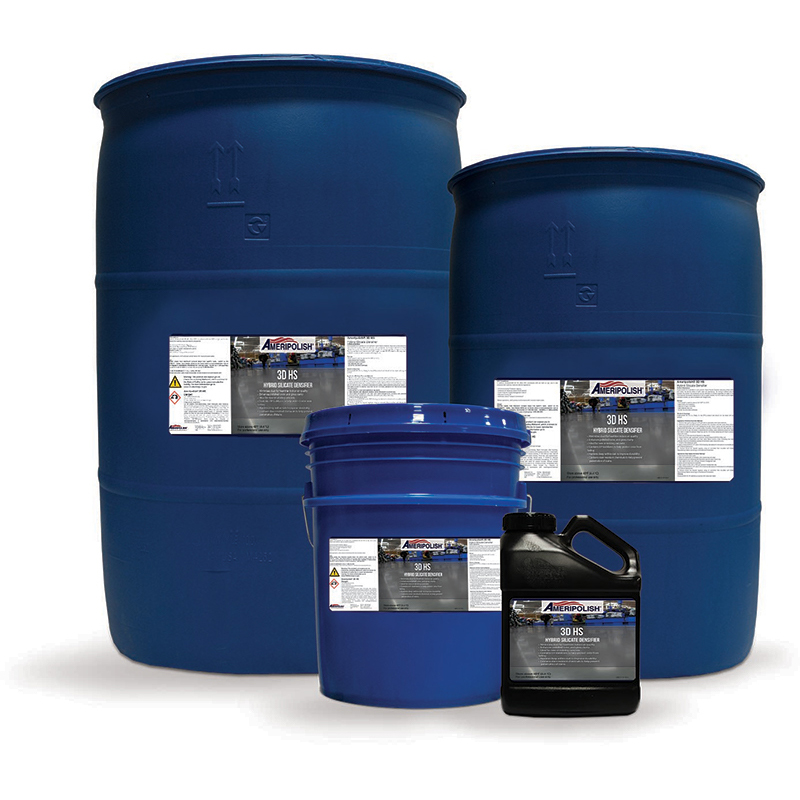 3D HS
HYBRID SILICATE DENSIFIER
Ameripolish® 3D HS (3 densifiers in one product) Hybrid Silicate Densifier improves surface performance and resists the harmful effects of traffic wear and weathering. By having 3 different size molecule silicates this product fully penetrates varying densities of concrete regardless of region or hardness. This improves the abrasion resistance for new or aged concrete. 3D HS is ideal for use for exposed and polished concrete, as well as cements with integral color.
Ideal for new or existing concrete.
Hardens deep within the slab to improve durability even after grinding.
Contains UV stabilizers to help protect color from fading.
Enhances polished color, gloss and clarity.
Contains stain-resistant chemicals to help prevent penetration of stains.
Minimizes dust for healthier indoor air quality.
Cost per sq ft: 5 – 6 cents
Packaging: 5 gallon, 30 gallon, 55 gallon, 250 gallon
Coverage Rate: 600 – 800 sq ft per gallon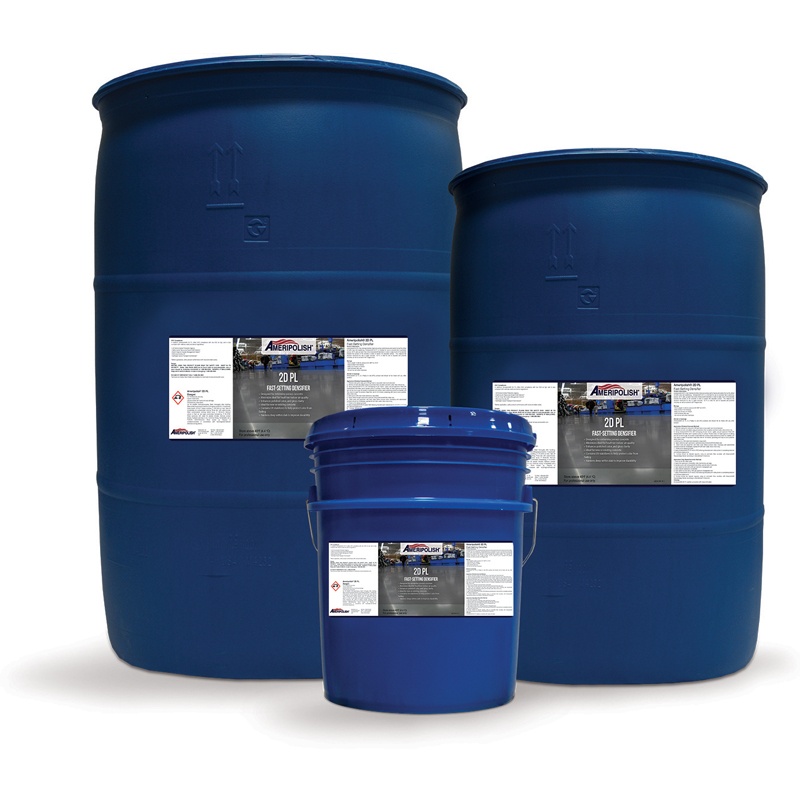 2D PL
FAST-SETTING DENSIFIER
Ameripolish® 2D PL is a multi-silicate blend, that is intended for use on extremley porous concrete. 2D PL sets up faster than other Ameripolish® densifiers, this keeps the majority of the 2D PL at the surface of the concrete in order to harden the wearable surface. Its ideal use is on open or porous concrete that will readily accept densifiers. When used in conjunction with Ameripolish® SR² Stain Resistor it is especially effective at resisting stains.
Fast-Setting, designed for porous concrete.
Ideal for new or existing concrete.
Multi-silicate to penetrate varying densities of concrete.
Hardens the wearable surface of porous concrete.
Contains stain-resistant chemicals to help prevent penetration of stains.
Minimizes dust for healthier indoor air quality.
Cost per sq ft: 5 – 6 cents
Packaging: 5 gallon, 30 gallon, 55 gallon, 250 gallon
Coverage Rate: 600 – 800 sq ft per gallon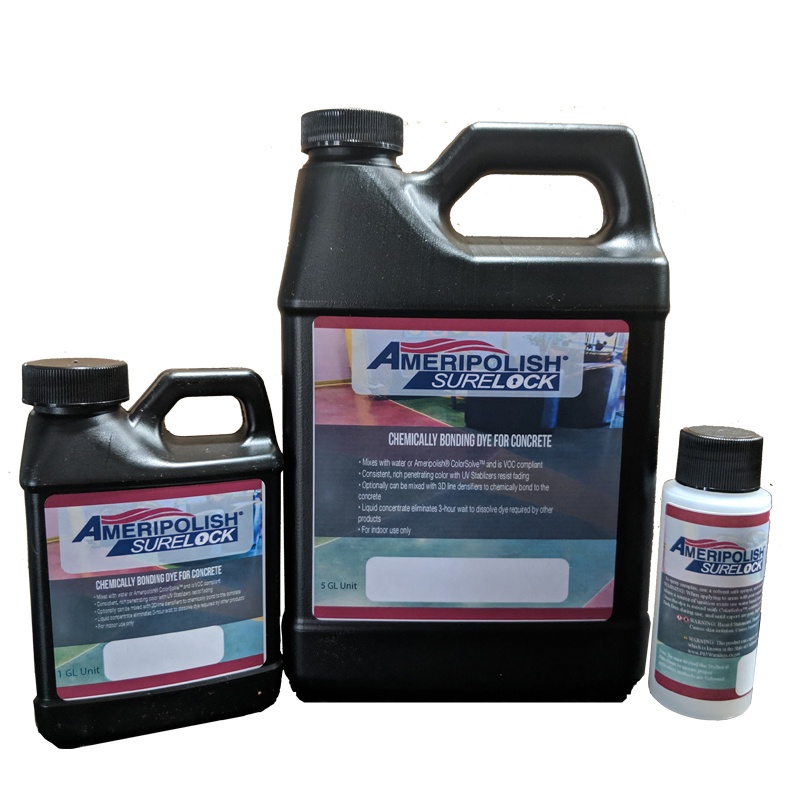 SureLock
CHEMICALLY BONDING DYES FOR POLISHED CONCRETE
Ameripolish® SureLock Dyes formula has recently been updated making them the most vibrant concrete dyes Ameripolish® has ever produced. SureLock Dyes are versatile colorants for polished concrete that mix with water or Ameripolish® ColorSolve™. SureLock Dyes are to be applied just before densifying with 3D HS or HSL, helping the color penetrate and chemically bond to the concrete.
The predissolved concentrate liquid is fast and easy to use. The formula includes UV stabilizers to resist fading as well as a penetrating agent to eliminate further mixing and develop deep, rich colors even on hard, dense concrete.
Cost per sq ft: 9 – 17 cents
Colors: click here for chart
Coverage Rate: 400 – 700 sq ft per gallon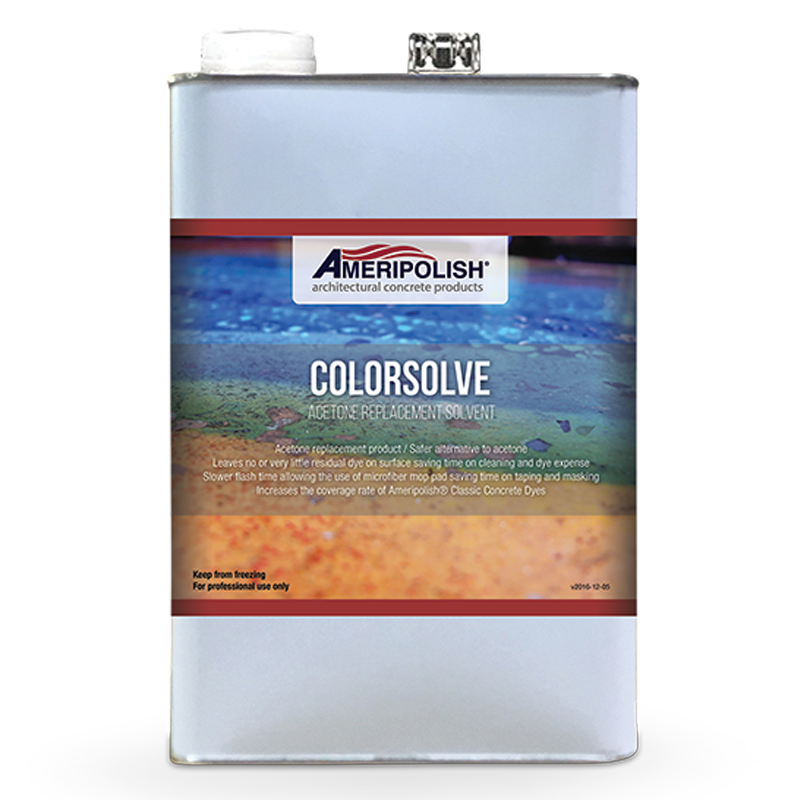 ColorSolve
SOLVENT CARRIER FOR AMERIPOLISH® DYES
Ameripolish® ColorSolve is a solvent carrier designed and recommended for use with Ameripolish® Classic and SureLock™ concrete dyes. ColorSolve is extremely easy to use and leaves little to no residual dye on the surface. Use of ColorSolve extends the dye coverage rate, increasing it up to 1,000 square feet per gallon!
Packaging: 1 gallon, 5 gallon, 55 gallon
Coverage Rate: approx 1,000 sq ft per gallon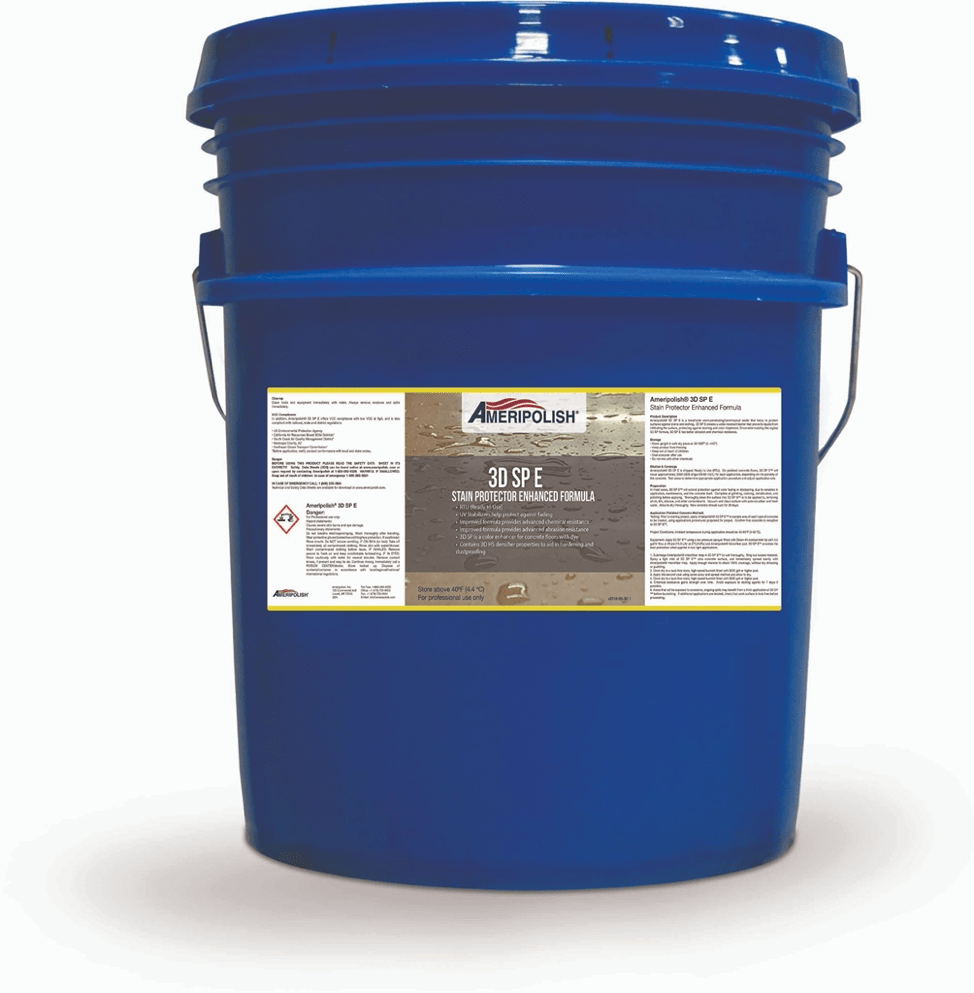 3D SP E
Ameripolish® 3D SP E™ is a breathable semi-penetrating/semitopical sealer that helps to protect surfaces against stains and etching. 3D SP E™ creates a water-resistant barrier that prevents liquids from infiltrating the surface, protecting against staining and color dispersion. Since reformulating the original 3D SP formula, 3D SP E™ has better abrasion and chemical resistance, but maintains the same easy application methods you've become accustomed to using.
Packaging: 5 gallon, 30 gallon, 55 gallon, 250 gallon
Coverage Rate: 2000 – 2500 sq ft per gallon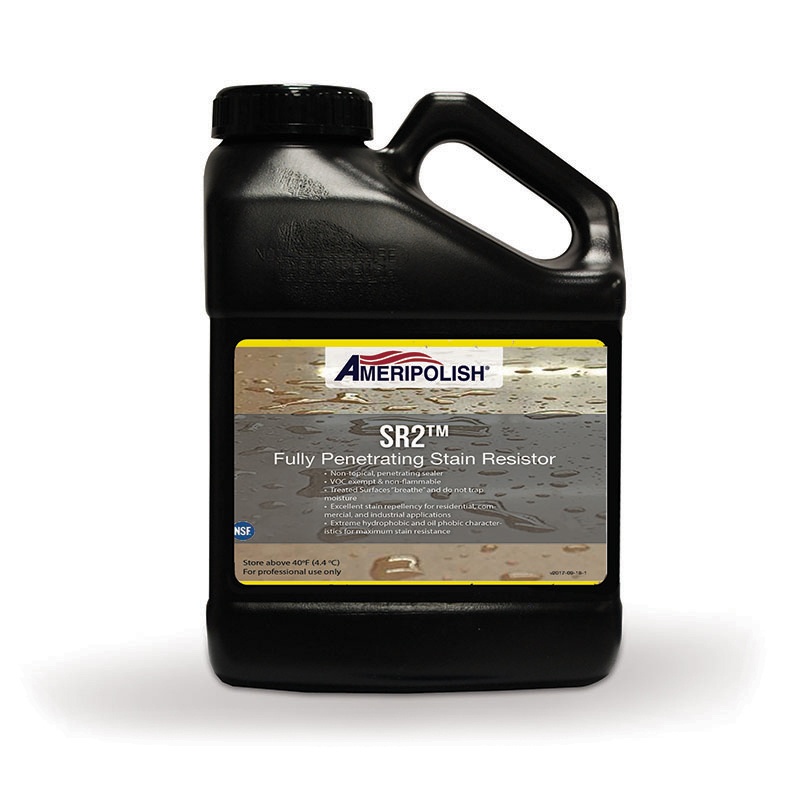 SR² Stain Resistor
FULLY-PENETRATING STAIN RESISTOR
Ameripolish® SR² is a penetrating stain repellent specifically formulated to protect polished, dyed and non-dyed concrete from oil and water-based stains. The water and oil repelling qualities of SR² provide superior stain protection on most substrates.
SR² can be used as a standalone product, but to obtain optimum performance, Ameripolish® SR² is recommended for use with Ameripolish® 3D HS or HSL Densifiers.
Cost per sq ft: 3 – 5 cents
Packaging: 1 gallon, 5 gallon, 30 gallon, 55 gallon, 250 gallon
Coverage Rate: 3,000 – 5,000 sq ft per gallon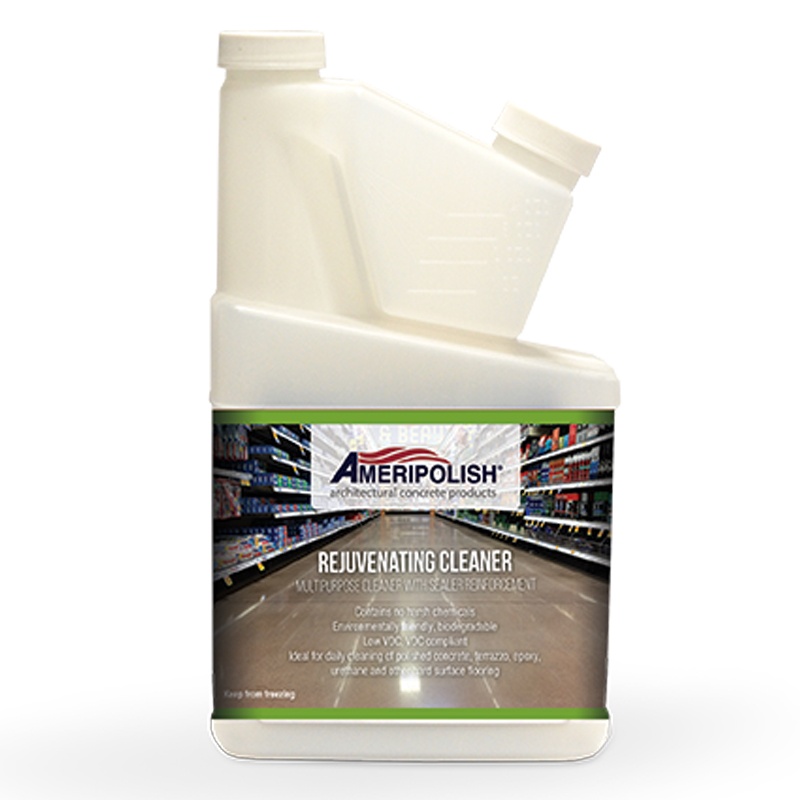 Rejuvenating Cleaner
CONCENTRATED MULTIPURPOSE CLEANER
Ameripolish® Rejuvenating Cleaner is a concentrated multipurpose cleaner that removes daily debris from hard surfaces, as well as reinforces the sealer to extend the life of polished concrete floors.
Rejuvenating Cleaner contains no harsh chemicals and leaves no build-up on the surface. In addition to polished concrete, it is ideal for use on vinyl tile, ceramic tile, terrazzo, wood, and composite materials. It rejuvenates the floor by reapplying trace amounts of densifier and stain-resistant additives while you clean with an auto-scrubber. This delays the reapplication of SR² as far out as every 2 years.
Packaging: 32-ounce concentrate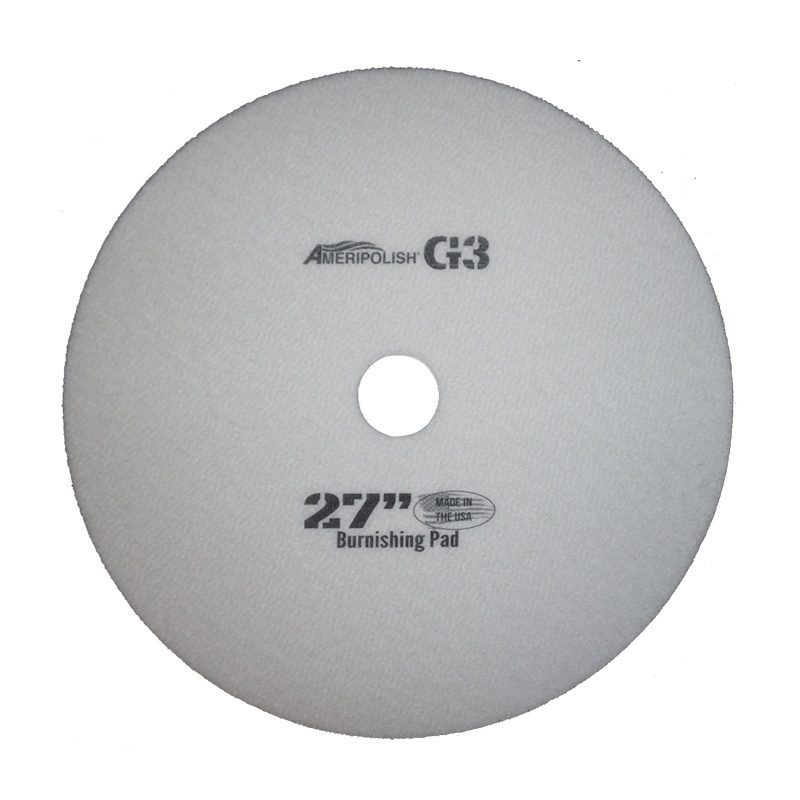 G3
BURNISHING PAD FOR 3D SP E
Ameripolish® G3 is a floor burnishing pad for use on ultra high speed floor machines that operate in the 1500-3000 rpm range. The pad is made of polyester fibers in a nonwoven construction. This product is designed for the burnishing phase after Ameripolish® 3D SP E is applied and dried. The pad is available in varying sizes.
Designed to improve gloss/clarity of floors protected with Ameripolish® 3D SP E or "guard" type products.
Removes dust, scuffs and marks on high traffic areas.
Packaging: 21″, 24″, and 27″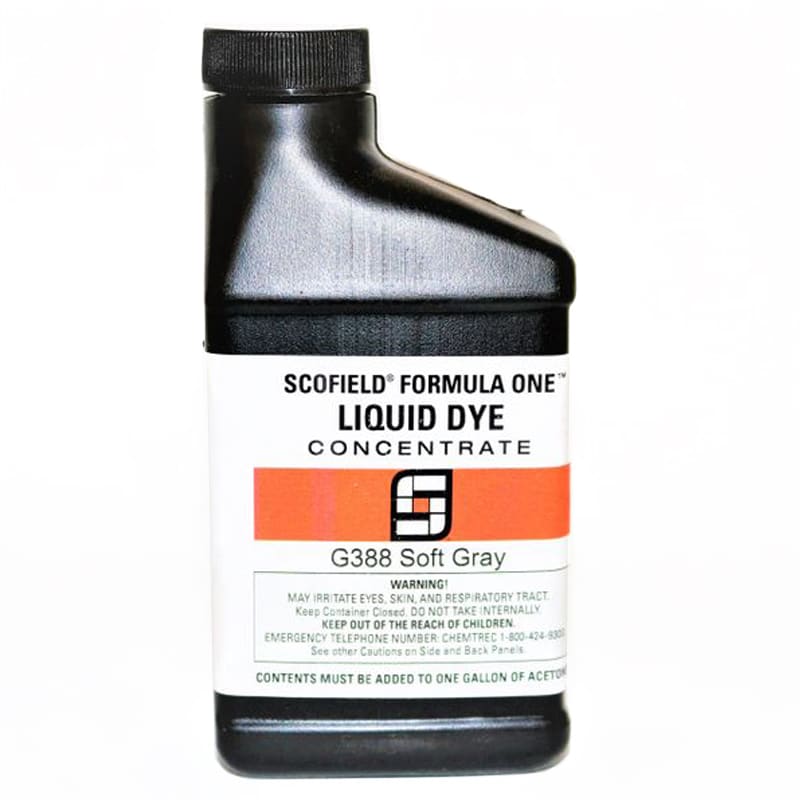 Formula One Liquid Dye Concentrate
SCOFIELD® Formula One™ Liquid Dye Concentrate is a penetrating, translucent dye concentrate designed to color interior concrete surfaces prior to being sealed, densified, or polished. Designed for easy job-site dilution, simply add to one gallon of acetone and mix thoroughly. The mixed dye is ready to use in minutes.
Packaging: 8 fluid ounces to be mixed with 1 gallon of acetone to make ready-to-use dye
Colors: click here for chart
Coverage Rate: 300 – 600 sq ft per gallon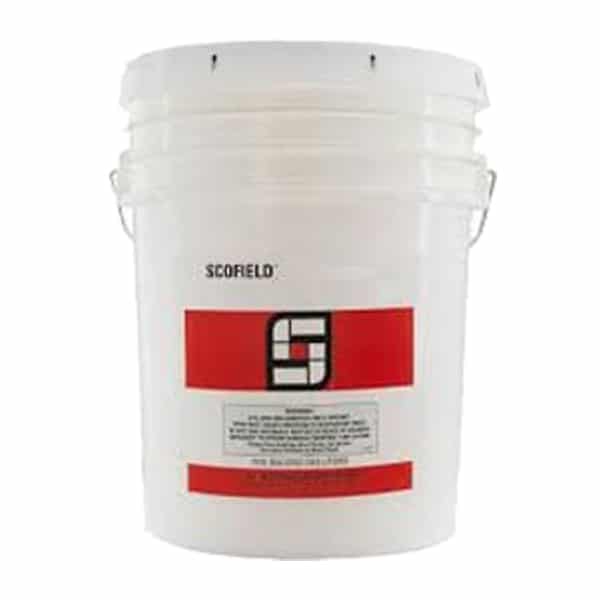 Formula One Lithium Densifier MP
SCOFIELD® Formula One™ Lithium Densifier MP gives you a more cost-effective way to provide longer life to colored architectural ground and polished concrete floors in schools, hospitals, government buildings, retail stores, shopping centers and restaurants. How do we accomplish this? Scofield's product engineers have determined the optimal solids content required to deliver the best penetration and reactivity: a higher-solids-content formulation that is designed to be diluted 1:1 with potable water.
Packaging: 5 gallon pails and 55 gallon drums
Coverage Rate: 200 – 400 sq ft per gallon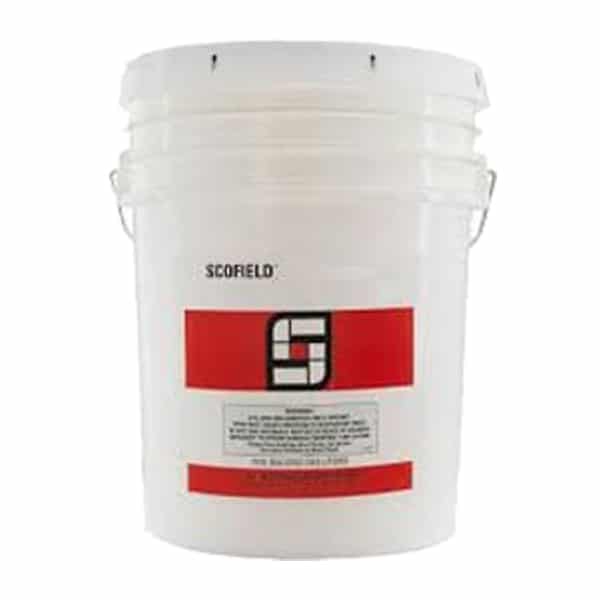 Formula One Guard-W
Introducing SCOFIELD® Formula One™ Guard-W, a water-based finish used in conjunction with a high-speed burnisher to enhance the gloss of ground and polished concrete surfaces. SCOFIELD® Formula One™ Guard-W was developed to provide a measure of protection against water intrusion, a fast turnaround time, excellent image clarity and easier maintenance.
Packaging: 1 gallon, 5 gallon, and 55 gallon drums
Coverage Rate: 1200 – 1500 sq ft per gallon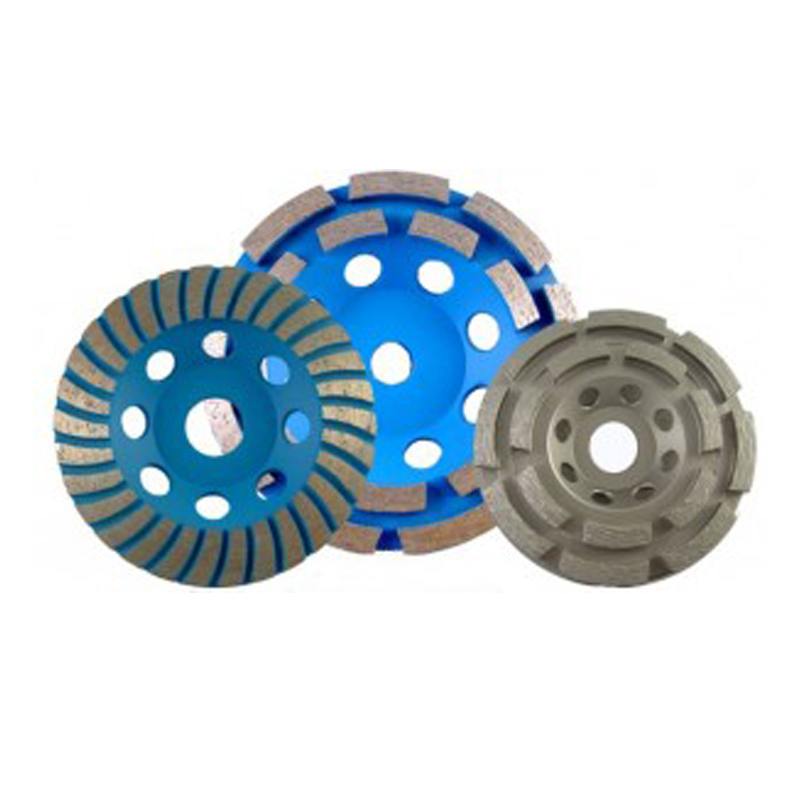 Cutters, Cups & Grinding Wheels
PCD cutters, metal segment grinding tools as well as turbo cups are used for material removal, edge prep, and or leveling. These high quality tools create a large surface area, increase work efficiency, and reduce prep expenses.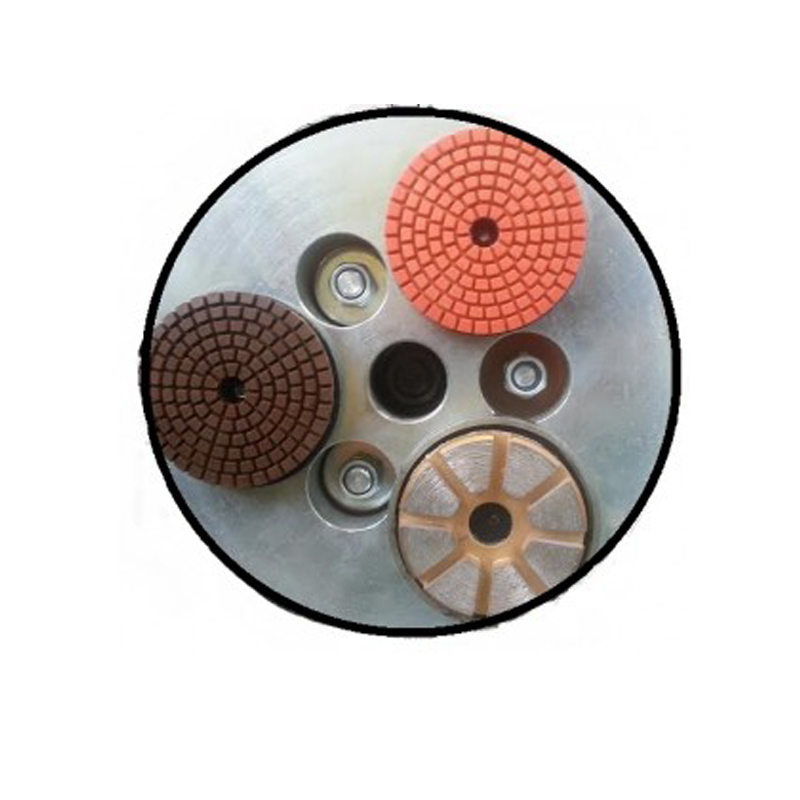 Resin Bond Diamond Tools
Our flexible polishing tools are able to conform to slight variations resulting in an even polish across the floor surface.  Industry leading technology is used to create application specific resins that allow these pads to last when used on concrete and granite. 3″ and 5″ discs are available in grits starting at #30 up to #3000.