Interior design is a dynamic industry that's always evolving. In 2023, there's one particular style that's capturing the attention of homeowners: concrete. Concrete is quickly becoming a popular choice for home interiors, and experts predict that the concrete market will grow at a rate of 7.1% annually until 2027. This shows just how popular concrete has become!
In the past, concrete was mainly used in outdoor spaces like patios, sidewalks, and driveways. It was known for its durability but lacked appeal and style. However, thanks to innovative design and casting methods, the material has undergone a remarkable transformation.
Now, it can be shaped into elegant and stylish forms, making it a fantastic option for interior design. You can find beautifully crafted concrete designs available for purchase, or you can even use casting services to create custom designs that perfectly match your home's décor theme.
The Best Areas for Concrete Placement
If you're considering incorporating concrete into your home's interior design, some of the best areas to do so are in your kitchen and bathroom. Concrete floors, countertops, and sinks are all popular options that add a modern touch and can withstand the wear and tear of daily use.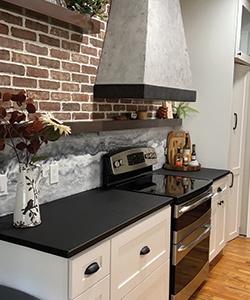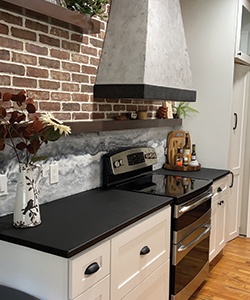 Countertops and Full Backsplash for Kitchen
Concrete kitchen countertops are popular for their functionality, beauty, and durability. They are also great at resisting high levels of heat, making them perfect to install in the kitchen. These countertops are reinforced with fibers or fiber mesh, which increases their tensile strength and prevents structural cracking. One of the main benefits of concrete countertops is that they can last forever with proper maintenance. Moreover, you can get precast countertops or customize a design through the pour-in-place method to match your home décor theme.
You can also incorporate concrete in your kitchen by installing a full concrete backsplash. This design provides texture and depth to the area, making your kitchen appear larger. Concrete backsplashes are available in multiple shapes, colors, and textures, creating a modern, artistic, or vintage look. With concrete backsplash and countertops, you can create a one-of-a-kind look that is sure to spark envy in your neighbors and family members.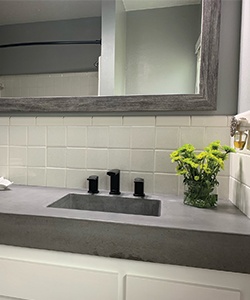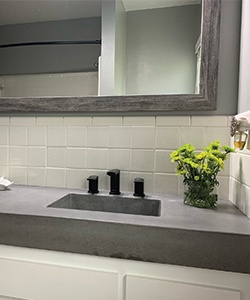 Bathroom Countertop and Wall Panels
Concrete countertops offer an affordable solution for achieving a sophisticated and polished aesthetic in your bathroom. Whether you prefer a contemporary vibe or a rustic charm, this eco-friendly material can be shaped to suit your desired look. Notably, concrete bathroom countertops boast exceptional durability, as they are resistant to chipping, scratching, and cracking. Additionally, concrete's excellent thermal properties help to retain heat within the space, contributing to a more energy-efficient home.
You can also enhance your bathroom with the modern touch of concrete wall panels. When incorporating these panels, it's wise to inquire about waterproof sealers that provide an added layer of protection. Look for sealers specifically designed to resist moisture, as they can effectively prevent the growth of mold and mildew. Some sealers even offer antimicrobial properties, ensuring a hygienic environment in your bathroom. By considering these factors, you can elevate both the aesthetic appeal and functionality of your bathroom space.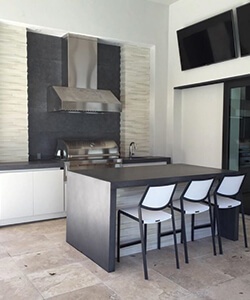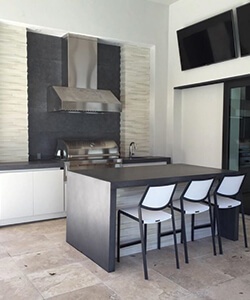 Outdoor Bars & Kitchens
If you frequently host parties and events in your home, you must dedicate an outdoor space for a bar and kitchen. Using concrete, you can elevate this simplistic structure and make it stylish and durable. Since it is an outdoor structure, it is essential to use a sturdy material like concrete to make it long-lasting.
You can either install concrete countertops or build the entire structure from scratch. Due to the high durability of concrete, your outdoor bar and kitchen will be safe in all weather conditions, such as heavy rain, sweltering heat, and dry winds.
Architectural Concrete to Decorate Surfaces
Architectural concrete is a decorative material applied on surfaces to enhance their appearance, texture, and color. It comes in basic designs and 3D framework units, allowing you to choose according to your home's interior aesthetics.
You can use architectural concrete to strengthen and beautify these home structures:
Slabs
Beams and columns
Driveways
Walls
Benches
Planters
Fire pit tables and bowls
Concrete Trends: Play with Color and Texture
You can now buy high-strength concrete in a wide variety of colors and textures to match your home's interior design. Let's explore some inspiring and innovative ways you can incorporate concrete into your projects:
Harness the Power of Colors
The impact of colors on your mental and emotional state cannot be underestimated. For instance, natural colors and shades evoke a sense of tranquility, connectedness, and heightened focus. You can incorporate a natural color theme in your home decor, even with concrete surfaces.
To achieve these stunning effects, it's crucial to incorporate bold and captivating colors into your concrete mix. Consider shades like rich browns, elegant grays, pristine whites, serene sky blue, earthy mossy green, vibrant yellows, and a wide array of other hues.
Concrete mixes, such as the Xtreme Series, offer both white and gray cement bases, providing a versatile foundation for your creative endeavors. By adding color packs to the concrete mix prior to pouring, you can bring your vision to life. For the latest and most sought-after color choices in 2023, be sure to explore the XS Color chart.
Another popular method of coloring concrete countertops and wall panels is through stains. Concrete stains beautifully enhance surfaces with natural variegated or mottled finishes, adding depth and character. Once the material has hardened, the colors in the stain will dry and become more vibrant after sealing. Resulting in a striking visual impact.
To preserve and enhance the longevity of these colors, it's essential to seal all surfaces appropriately. You can also embrace the versatility of coloring options to make your concrete creations truly captivating.
Experiment with Textures
Textured concrete has emerged as a captivating new trend in interior design, adding depth and visual interest to interior spaces. From subtle patterns and matte finishes to bold and intricate designs, you can experiment with textures to create an artistic interior.
Among the popular texture trends in concrete, one stands out: the captivating use of exposed aggregate. This technique artfully highlights the innate charm of stones and pebbles embedded within the concrete, resulting in a stunning terrazzo-like finish.
Another noteworthy trend involves skillfully replicating the appearance of natural stone, complete with its etched texture and exquisite veins. These techniques allow you to infuse your concrete surfaces with the allure of nature's own artistry.
Additionally, textured concrete can feature unique patterns, waves, or even three-dimensional sculptural elements, providing a captivating focal point in any room.
Concrete provides the ultimate canvas for expressing your aesthetic. Whether you envision a striking high-gloss polished appearance or a subtle matte stone finish, concrete is the perfect material to execute your vision. Its versatility allows you to customize the color and texture to achieve the perfect complement for your home.
Precast vs. Pour-In Concrete: Which is Better?
You can choose from different types of concrete to design your home according to your vision.
Pour-in-Place Concrete
Pour-in-place concrete is mixed, poured, and cured in the installation area with the use of a precise blend of cement, polymers, and aggregate. This method is ideal for both indoor and outdoor settings to create countertops, tabletops, sinks, fire pits and wall caps. One of the best choices is to use XS ProCast Plus, as it delivers a smooth, hand-packed, and seeded aggregate finish.
Precast Concrete
Precast concrete is fabricated in a climate-controlled factory area to make it as strong as steel by utilizing fiber reinforcement. Despite its high strength, the produced pieces are lighter in weight. The precast concrete countertops come in a vast variety of textures and finishes compared to pour-in-place. You can even create precast concrete yourself by choosing the correct concrete bag mix.
With precast concrete, you have the advantage of fabricating your countertops offsite in a controlled climate environment. This innovative approach incorporates a high-strength mix design that utilizes fiber reinforcement instead of steel, resulting in lighter-weight pieces. Compared to pour-in-place methods, precast concrete countertops offer a wider range of textures and finishes, giving you more design options to explore.
When selecting the right concrete bag mix, two exceptional choices are XS PreCast and XS Face. Both face coats are seamlessly integrated with the XS Backer Mix. This backer mix stands unrivaled with its pre-blended glass fiber reinforcement, ensuring superior performance. When combined, these materials allow you to create concrete surfaces that are not only stronger and lighter in weight but also capable of spanning greater widths.
Do-It-Yourself vs. Professionally Crafted – Cost Analysis
Are you ready to unleash your inner artisan and create exquisite concrete countertops with your own personal touch? Look no further than your local decorative concrete supply store, such as Select Surface Solutions, where you can easily procure the necessary materials. The cost of these materials starts at $15-$20 per square foot. However, be mindful that bringing your DIY countertop vision to life requires specific tools and a casting table, which can increase your project's cost.
While some may relish the challenge of crafting their own countertops, most prefer to entrust this task to skilled professionals. If you reside in the greater Orlando area, you can expect to invest in the range of $75-$150 per square foot for professionally handcrafted, custom countertops. The exact price within this range depends on various factors, including color, texture, finishes, and the complexity of custom shapes or edge profiles.
Wrapping Up
What is the top design trends for 2023? Concrete is the hottest trend in home décor, as it is highly durable, easy to maintain, and available in multiple shades and textures. You can install it on kitchen countertops, backsplashes, bathroom walls, and outdoor bar structures to improve the integrity and aesthetics of the structure. You can use precast concrete products or customize the structure onsite, choosing a mold that matches your preference and budget.
If you're passionate about tackling do-it-yourself projects, ignite your imagination with a training program from Select Surface Solutions (SSS). By enrolling in their program, you'll gain invaluable hands-on training on the complete XS bag mix lineup. The program will also keep you updated on the latest trends in colors, textures, and sealing techniques. Stay tuned to our Facebook page for updates on the upcoming Concrete Countertop Fabrication Class.
However, if your goal is to achieve a flawless and professional finish, it's wise to enlist the expertise of a company specializing in concrete countertops. Select Surface Solutions can connect you with a roster of local fabricators with extensive training, impeccable craftsmanship, and an exceptional reputation in the Orlando area. Pay them a visit or give them a call today to explore your options further.